Strange Currencies is a blog and article site specializing in speculative fiction books, games, shows and film.
The team is made up of the following contributors:
Daniel Ruffolo – Site Owner and Editor-in-Chief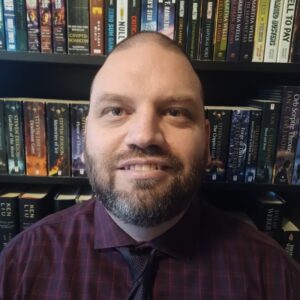 When Dan isn't reading far too much genre fiction, or spending too much time playing games, reading forums and other highly nerdy pursuits, he works as a freelance editor, game designer and online community manager. With his background in Philosophy and History, he takes his fantasy world-building and story cohesion very seriously. He created Strange Currencies because the only thing better than reading books is sharing and discussing them with like-minded people. He hopes that Strange Currencies is able to bring together as awesome a community of speculative fiction lovers as he knows it can.
Favourite Subgenres: Epic Fantasy, High Fantasy, Dark Fantasy, Sword & Sorcery, Historical Fantasy, Military Science Fiction, Space Opera.
Favourite Authors: Guy Gavriel Kay, Ken Liu, Tanya Huff, Steven Erikson, Nnedi Okorafor, Mercedes Lackey, Terry Pratchett, Melanie Rawn